White Rabbit Galleries Scholarship Fund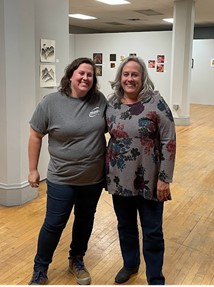 The White Rabbit Galleries Scholarship Fund was established by Laura Smith and Molly Brown. This scholarship is dedicated to supporting the local Arts and Artists in Barberton by assisting Barberton students pursuing an arts degree. Scholarships are given in memory of Suzanne Jones Richardson and Carol Marsh.
White Rabbit Galleries, women-owned and established in January 2021, is located at 571 W. Tuscarawas Ave. It is operated by Laura Smith and her daughter, Molly Brown. In addition to a large public gallery, they rent space to seven artists and curate a regular schedule of shows.
Read more about how Laura and Molly established their scholarship.