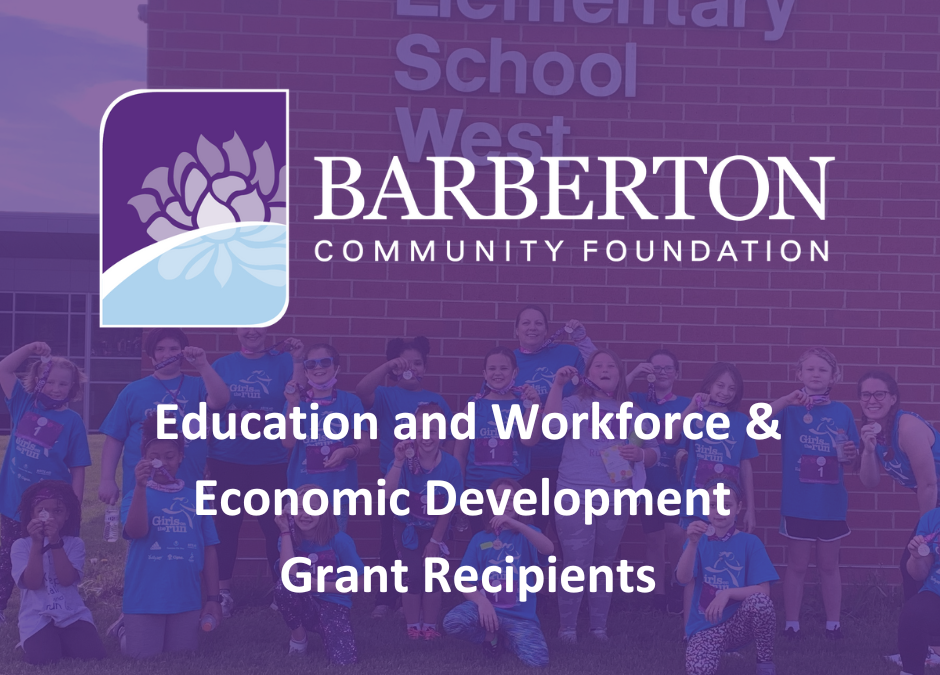 Foundation Board Approves First Grant Cycle of 2023, Awards $73,000 to Education and Workforce & Economic Development Programs
Barberton Community Foundation's Board of Directors met for their regular meeting on Thursday, March 16, at the Active Adult Center. The board approved eight grants totaling $73,009.04. The board also approved Renea Macko and Rob Pursley as new Friends of the Foundation, and thanked Dr. Suzanne Allen, who is retiring from her role as executive director of Barberton Community Foundation on March 31. Tiffany Peters, director of finance, has been named as interim executive director.
Grants:
Barberton City School District was awarded $22,975.32 for their partnership with AMHA to expand support for families and students. The grant supports more on-site tutoring days, bussing to parent/teacher conferences, and bi-monthly resident meetings to educate parents about school services and opportunities. AMHA expects to serve 800 individuals through these programs.
National Inventors Hall of Fame received $15,000 for 2023 Camp Invention financial support for 120 students who would like to attend. Camp Invention is a summer enrichment program led by Barberton teachers with STEM-based curricula.
Child Guidance & Family Solutions received $10,000 for their Toddlers and Preschoolers Succeeding (TAPS) program. TAPS provides on-site training for preschool and childcare staff on how best to respond to challenging classroom behaviors and improve kindergarten readiness. Child Guidance anticipates serving 380 preschoolers with this funding.
Barberton City School District was awarded $6,533.72 to support the primary school's Magical Reading program, which teaches parents how to read to their children in creative, educational and engaging ways. Funding supports the purchase of books for families to read together, crafts and operations for the event.
United Way of Summit & Medina received $5,000 to support Financial Empowerment Center services provided to Barberton residents. The Center estimates they will serve 215 residents through free financial empowerment programming, including financial coaching, tax preparation and banking assistance.
Junior Achievement was awarded $5,000 to provide programming within Barberton City Schools to 320 students in middle and high school. Programs include JA Personal Finance, JA Inspire, JA Company Program and JA Economics for Success.
The International Soap Box Derby received $5,000 for programs and field trips for Barberton City School students, including their popular Gravity Racing Challenge program. Funding supports the purchase of derby car parts, supplies and program books for 180 students.
SCORE Akron received $3,500 for their Barberton Community Workforce Development programs which include mentoring and workshop programs for entrepreneurs interested in starting their own business or expanding their existing business.