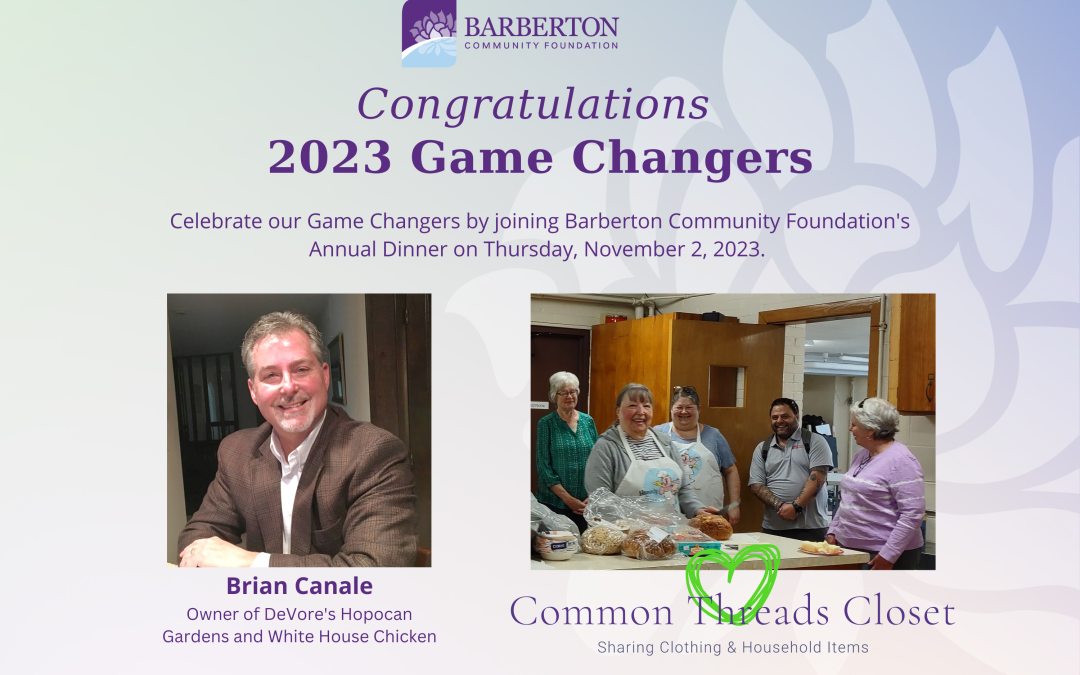 Meet the Foundation's 2023 Game Changers
Each year Barberton Community Foundation honors an individual and an organization that have made a positive impact in Barberton. The Foundation is proud to announce our 2023 Game Changers are Brian Canale and Common Threads Closet.
Brian Canale said it was a shock to hear he had won the nomination. "I thought I overdrew a fund!" He said. "I'd like to thank those who nominated me. I never expected to be recognized."
Common Threads Closet is located at 211 3rd Street NW in the lower level of Lakeview United Methodist Church. The organization provides clothing, shoes and small home goods to those in need. Director Cindy Bach couldn't wait to tell her volunteers. "Everyone here is so excited. Our volunteers are absolutely game changers."
The Game Changers will be celebrated at the Foundation's Annual Dinner, held on Thursday, November 2, 2023. Get your tickets today!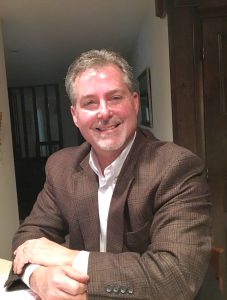 Meet Brian Canale
Most of Barberton will recognize the name of third generation operator and owner Brian A. Canale, who runs two of Barberton's beloved chicken houses: White House Chicken and DeVore's Hopocan Gardens. Beyond his role as a restaurateur, Brian has been quietly donating to area school sports programs and supporting hunger initiatives for years. A fun fact, Brian is a founding member of the Barberton Sports Hall of Fame. He signed up the first year they offered memberships in 1979 and, more recently, he received their O.C. Barber Award in 2020.
Brian Canale sets a strong example as a community-focused businessman and servant leader. If you have ever participated in a Barberton sports team, chances are high he has sponsored, donated to, or fed your team. Brian has never shared much about his charitable giving because, as he says, "It's just something you're supposed to do."
Brian says charity is a family value, but it really showed when he began working at Hopocan Gardens. He said, "My dad taught me the business, but my grandfather taught me the wisdom." His grandfather, William DeVore, was the original owner of DeVore's Hopocan Gardens. When Brian took over the business, William said something that has stayed with him. "We feed everybody."
"He was referring to our employees and customers," Brian said. "All I've done is take that message beyond the restaurant's walls."
That sense of community is the reason Brian is being recognized this year. Brian holds two funds at Barberton Community Foundation: the Barberton City Schools Synthetic Football Field Turf Fund and the Chicken Open Fund. He is chair of the Turf committee, the group responsible for the annual Turf Auction, the main fundraising event for the synthetic field at Barberton High School. The school's turf project launched in 2018 and raised more than $250,000 in its first year toward upgrades to the stadium and to install synthetic turf on the field. His second fund, the Chicken Open, is an annual golf tournament supporting Barberton and Norton high school golf teams, Barberton All Sports Boosters, and food-based charities like Barberton Area Community Ministries (BACM) and the Akron-Canton Food Bank.
As an extension of his grandfather's message, Brian wants to benefit the Ben Curtis Family Foundation and their Birdie Bag program with his Game Changer title. Bridie Bags are given to children who need extra meals over the weekend in Barberton City Schools. In 2022, Ben Curtis Family Foundation provided over 1,400 Bridie Bags each month. Each bag contains six meals and four snacks.
Those who want to celebrate Brian are invited to support Ben Curtis Family Foundation's Birdie Bag program through the Foundation's website.

Meet Common Threads Closet
Common Threads Closet is a Barberton nonprofit organization providing clothing of all sizes, shoes, home goods, and small appliances to those in need. Families and individuals pay $5 a year (which isn't required up front) to have an account. Those in need can take up to 30 items per person each month. Anything chosen is tracked on a database and credited to their account. A team of volunteers processes each donation, organizes items and prepares hot meals. The closet is open twice a week, on Thursdays from 4-7pm and Saturdays from 10am-1pm.
Common Threads first opened on January 3, 2013. A decade later, they currently serve over 2800 families from multiple counties and process more than 80,000 items a year.
"The general thought at the beginning was, the economy was bad, and we could help people with clothing," said director Cindy Bach. Common Threads stayed with that mission, to provide clothing to those in need, until COVID. "Then people needed more help, and they were coming in with different problems. We realized we needed to provide food and meals as well."
COVID decidedly changed how Cindy sees the role of Common Threads in the broader network of agencies that provide social-support services. "One of the things I learned early on is that needs in this community differ greatly, and when you're serving an at-risk population, you are always trying to lower barriers."
Some barriers are higher than others, and Common Threads is taking aim at some of society's most systemic issues. Cindy explained that many people she sees are grandparents on fixed incomes or are considered the working poor. Some are homeless or have health problems. Common Threads is growing toward meeting the needs of these most at-risk populations. "We are starting to offer more support for people by getting ID's, and finding housing that is appropriate," she said. They're also looking at introducing mentors: volunteers helping homeless individuals through the system.
The growth of this organization wouldn't be possible without dedicated volunteers. Cindy credits extending and embracing a culture of "everyone is welcome" through her volunteers for the success of Common Threads. "We take everybody," says Cindy. "We have folks who volunteer from home because they have limited mobility. If you want to help out, we will work with you. There's a job for everyone."
Common Thread's history is tied to Lakeview United Methodist Church, where they're located. "In the past you had to belong to the church to volunteer at the closet, but now our doors are wide open. We have every faith you can imagine volunteering here." Cindy added, "We're not religious, we're faithful."
Common Threads Closet recently established an endowment fund with the Foundation. The fund will support the continued growth of Common Threads and provide future resources. Readers are welcome to support Common Threads through their fund by visiting the Foundation's website.
Annual Dinner
Both Brian Canale and Common Threads Closet will be recognized as Barberton Community Foundation's 2023 Game Changers at our Annual Dinner on Thursday, November 2, 2023 at the Galaxy in Wadsworth. Tickets will go on sale online on Friday, September 1. Donations can be made to the Ben Curtis Family Foundation Birdie Bag Fund or to Common Threads Endowment Fund by visiting our donation page, or by mailing a check to 460 W. Paige Ave. Barberton, OH 44203. Call us at 330-745-5995 with donation or ticketing questions.