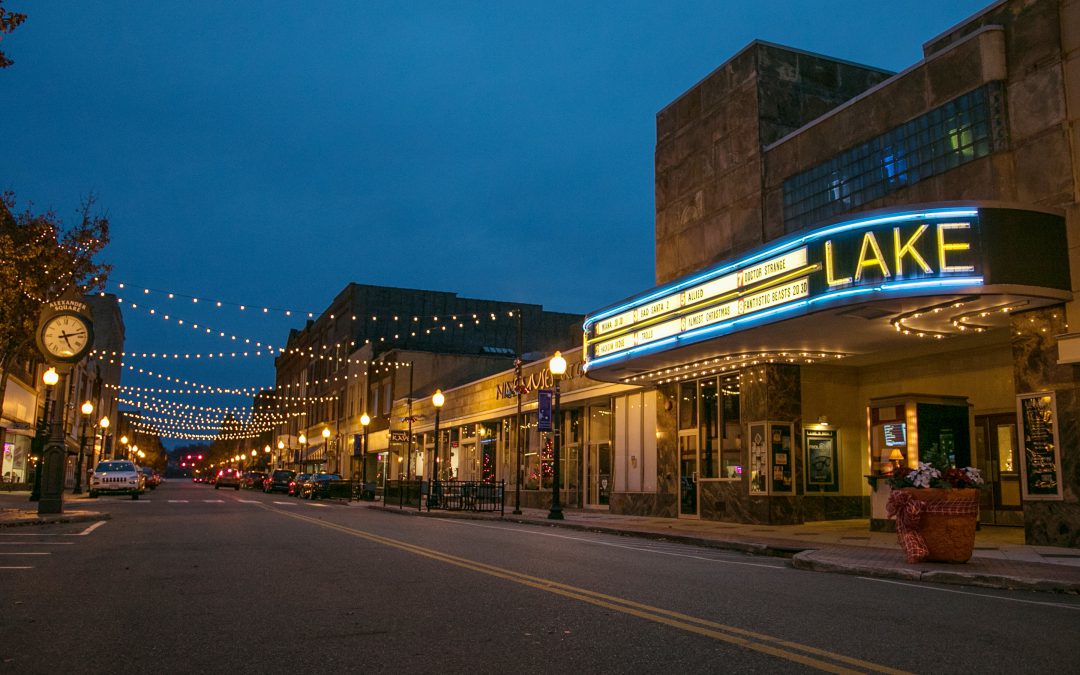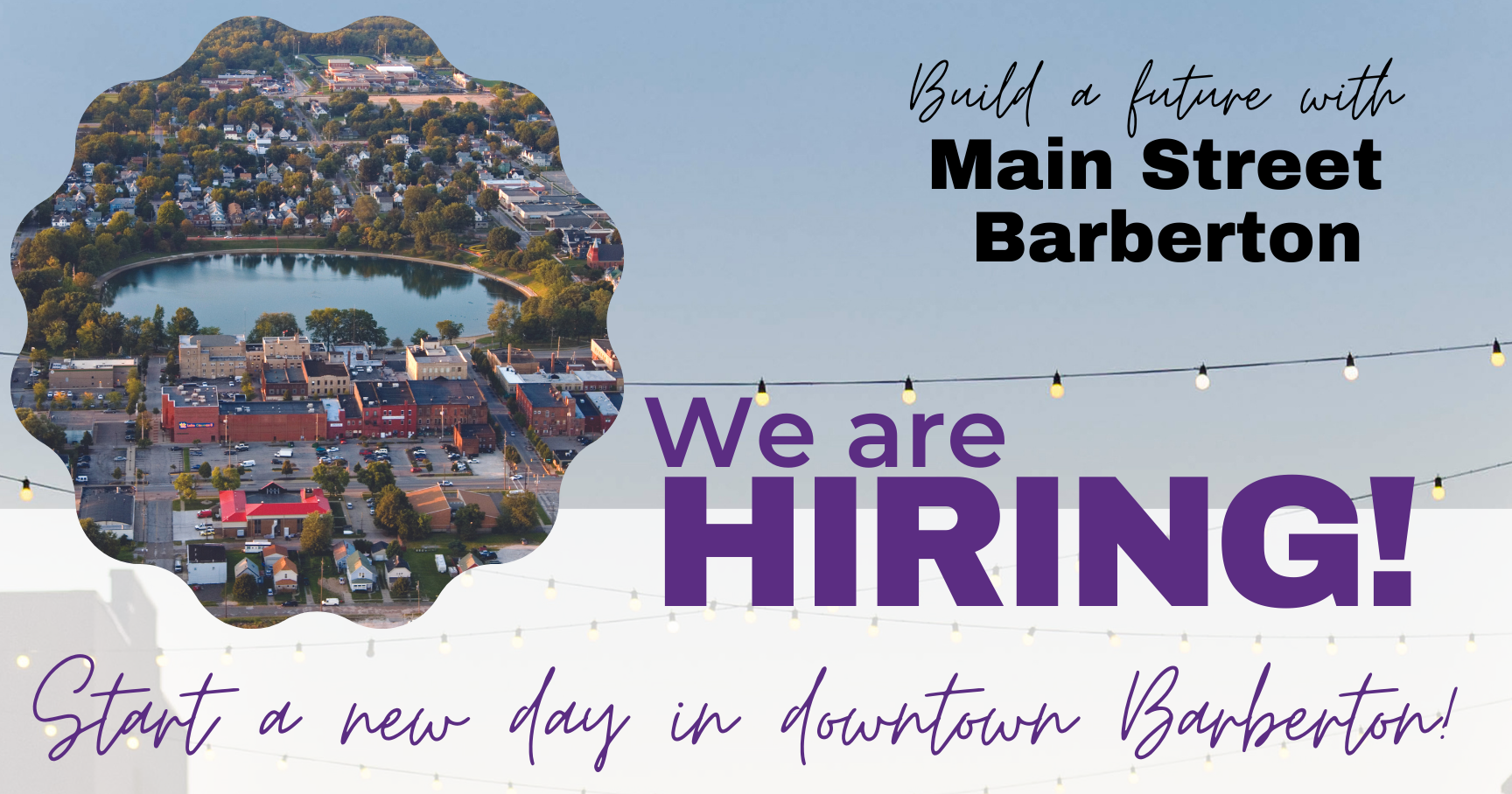 Job Posting for Main Street Barberton
Main Street Barberton was established in late 2022 through Heritage Ohio's flagship Main Street programming. This position will be the first executive director for this organization, and we are very excited to bring new energy to downtown Barberton. Read the press release about the creation of Main Street Barberton to learn more about the organization.
Title: Executive Director
Reports to: Board of Directors
Status: Full Time, Salary $50-60,000 commensurate with experience, health insurance stipend available. Availability for evening meetings as required and off hours, including weekends.
How to Apply
Applications are due by Friday, March 31 at 4:00pm. Send your cover letter, resume and references to mainstreetbarberton@gmail.com and address your letter to Denny Liddle, Main Street Barberton Board Chair.
For questions, please contact Barberton Community Foundation at 330-745-5995.
Download this job description.
Job Summary
The Executive Director is the principal on-site staff person charged with developing, organizing, implementing, and documenting the Main Street approach in downtown Barberton, OH. The Executive Director will be responsible for reinvigorating downtown through managing relations with and focusing the work of business owners, property owners, committee members, and volunteers to accomplish the goals and objectives of the annual work plan.
Essential Duties
Coordinate activity of the Main Street program committees.
ensuring that communication between committees is well established
assist committees with implementation of work plan items (i.e., membership development, fundraising, etc.)
and communicate outcomes to the community
Manage all administrative aspects of the Main Street program.
including maintaining an appropriate data system for record keeping, purchasing, budget development and some bookkeeping
preparing all reports required by the state Main Street program on a monthly basis
assisting with the preparation of reports to funding agencies
and supervising interns, volunteers, and/or consultants when appropriate
Develop, in conjunction with the Main Street program's committees, strategies for downtown economic development utilizing the community's human and economic resources.
become familiar with all persons and groups directly or indirectly involved in the downtown area and encourage involvement
act as the liaison between the downtown constituency and all entities involved with downtown issues and solutions
mindful of the roles of various downtown interest groups, assist the Main Street committees in executing an annual action plan for implementing a downtown development program focused on four areas: design, promotion, organization, and economic restructuring
become knowledgeable with all programs available through other local agencies (City of Barberton, BCDC, Barberton Community Foundation) to maximize the impact of the main street program for its members.
Develop and conduct ongoing public awareness and education programs designed to enhance appreciation of the downtown's architecture and other assets and to foster an understanding of the Main Street program's goals and objectives.
through speaking engagements, media interviews, and appearances keep the program highly visible in the community
Assess the management capacity of major downtown organizations.
encourage improvements in the downtown community's ability to undertake joint activities such as promotional events, advertising, uniform store hours, special events, business recruitment, parking management and so on
provide advice and information on successful downtown management
encourage a cooperative climate between downtown interests and local public officials
Help build strong and productive working relationships with appropriate public agencies at the local and state levels.
Utilizing the Main Street program format, develop and maintain data systems to track the process and progress of the local Main Street program.
these systems should include economic monitoring, individual building files, thorough photographic documentation of all physical changes and information on job creation and business retention
Represent the community at the local, state, and national levels to important constituencies.
speak effectively on the program's directions and findings, always mindful of the need to improve state and national economic development policies as they relate to smaller communities
Other duties as assigned.
Job Knowledge and Skills Required
To perform this job successfully, an individual must be able to perform each essential duty satisfactorily. The Executive Director should have education and/or experience in one or more of the following areas: nonprofit administration, marketing, fundraising, economics, finance, public relations, design, journalism, planning, business administration, public administration, retailing, volunteer coordination, or small business development. The Executive Director must be sensitive to design and preservation issues. The Executive Director must understand the issues confronting downtown businesspeople, property owners, public agencies, and community organizations. The Executive Director must be entrepreneurial, energetic, imaginative, well organized, and capable of functioning effectively in a very independent situation. Basic mathematical and computer skills are essential. Supervisory skills are desirable. Excellent communication skills, including verbal, written, and public speaking are desired as well as interpersonal skills, including coalition building, ability to build relationships with diverse populations.
Physical Demands
The Executive Director will be expected to represent the organization at functions, meetings, events, and programs at the local, state, and national levels. Must be able to work some evenings and weekends. The employee must have a valid driver's license.
Work Environment
The work environment characteristics described here are representative of those an employee encounters while performing the essential functions of this job. Reasonable accommodations may be made to enable individuals with disabilities to perform the essential functions.
General office environment
This job description does not list all duties of the job. You may be asked by the leadership team to perform other instructions and duties. You will be evaluated in part based on your performance of the tasks listed in this job description.
The Board of Directors has the right to revise this job description at any time. The job description is not a contract for employment, and either you or the employer may terminate employment at any time, for any reason.
How to Apply
Applications are due by Friday, March 31 at 4:00pm.
Send your cover letter, resume and references to mainstreetbarberton@gmail.com and address your letter to Denny Liddle, Main Street Barberton Board Chair.
For questions, please contact Barberton Community Foundation at 330-745-5995.
Additional Information:
It is Main Street Barberton's  policy that, as required by law, equal employment opportunities be available to all persons without regard to race, sex, age, color, religion, national origin, marital status, sexual orientation, disability, citizenship status, genetic information, veteran status, or any other category protected under state or local law.