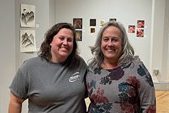 White Rabbit Galleries Establishes a New Scholarship
Barberton Community Foundation is pleased to announce the White Rabbit Galleries Scholarship Fund established by Laura Smith and Molly Brown. This scholarship is dedicated to supporting the local Arts and Artists in Barberton by assisting Barberton students pursuing an arts degree.
White Rabbit Galleries, women-owned and established in January 2021, is located at 571 W. Tuscarawas Ave. It is operated by Laura Smith and her daughter, Molly Brown. In addition to a large public gallery, they rent space to seven artists and curate a regular schedule of shows. Molly is a full-time artist, previously working as a resident artist of Summit Artspace on Tusc. When Summit Artspace closed their gallery in 2020, Molly and Laura had a vision for a fresh start.
"When Molly and I talked about it, we knew we needed to be vocal about supporting the arts. We know how much support athletics gets in Barberton," said Laura. "We wanted to send a message to kids: the arts are valuable, too."  
Their first show was the Student Art Show in April 2021. Then in May, Tracy Marsh approached them for a memorial show for his wife, and the Carol Marsh Memorial Show kicked off their grand opening. Proceeds from the show and an additional gift in honor of Suzanne Jones Richardson provided the initial principle for the scholarship.
"White Rabbit is more than a gallery," Molly said. "We want to make a bridge for the artist to the community." She is proud of their subheading: Community Art Center. "We put the emphasis on community," she said.
Molly graduated from Barberton High School, where she attended art classes taught by Ron White. She credits his teaching with declaring art as her major in college and completing her BA in Studio Arts. "I had a fantastic experience with the arts when I went to BHS. We had a fully functional darkroom for photography. That's what really got me started. We have drawing, glass, metal working and ceramics because of Ron White. Other schools don't have the creative experiences that we have in Barberton." She added, "He taught me how to offer and take constructive criticism; something you don't normally learn how to do until college."
Molly hopes this scholarship will reflect her family's broader mission at White Rabbit Galleries: to help students have confidence and a bridge to art.
This bridge will need support.  Laura changed her career choice from an art focus when she was in college because she didn't feel supported. She looked at her daughter and said, "But I changed my life so that I could support my kids." This is a generational change in the family. Laura wanted her daughter to be able to pursue an arts degree because she understood that desire not being able to pursue it. "As a parent, what you hear about scholarships is, you're either smart, or athletic. You don't see encouragement for art. This is such a blue-collar, hard-working community. But art is hard work too. You don't have to appreciate all of it; art is just as important an outlet as therapy. It's necessary."
Laura hopes the scholarship will be a good start to supporting young local artists. White Rabbit Galleries is planning a student show in the spring and hopes to encourage young artists to utilize the consignment option at the front of the building.
Currently, White Rabbit Galleries is hosting their Squared Fundraising Show. The theme of the show is just that – square. Every art piece must be square – and prices are set by size varying from 5×5 to larger pieces. The show runs until January 22. Then, in February, they will host the Remarkable Diner Artist Collective, featuring Lance Apple, Jack Hickson and Dennis and Denise Lundell. "We are incredibly excited," said Molly. "We're all looking forward to seeing what comes next. There are a lot of possibilities for this space."
White Rabbit Galleries Scholarship Fund celebrates those who have supported the arts. Scholarships are given in memory of Suzanne Jones Richardson and Carol Marsh. If you would like to support this fund, please give us a call or you can donate now. They hope to make their first scholarship award this spring.