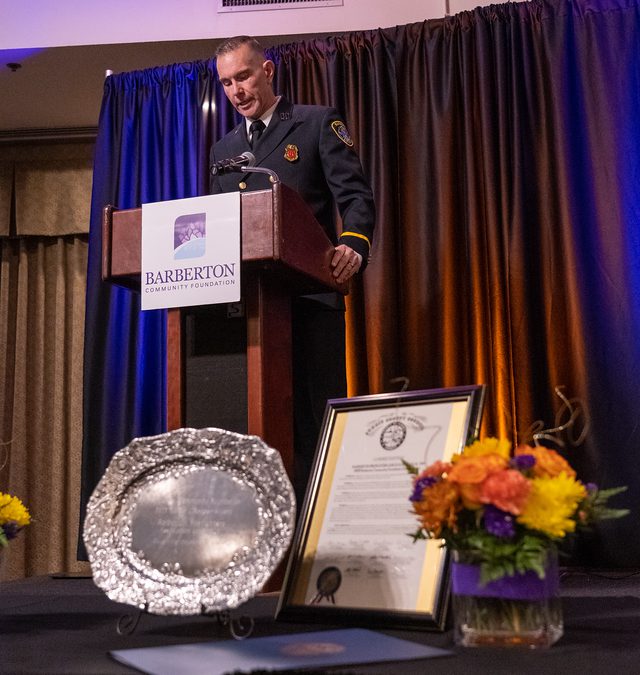 2022 Annual Dinner Celebrates Game Changers
Barberton Community Foundation held our 2022 Annual Dinner on Thursday, November 10 at the Galaxy Restaurant. "It's been three years since we've been able to meet in-person, and that is a celebration all on its own," said Dr. Suzanne Allen, executive director of the Foundation. The event had been cancelled in 2020 and held virtually in 2021. "Some guests said they wish it had been longer so they could visit more."
Doors opened at 5:00, with food served at 6:30 followed by a program featuring the Foundation's 2022 Game Changers, Mike Moore and the Barberton Firefighters Association Local 329. Lieutenant Mike Beckman, president of Local 329, accepted the award for the firefighters.
Suzanne began the program with a chance for guests to take a selfie. "What you've just captured is the very reason we are celebrating," she said. "Your philanthropy – you and your good work – are what make Barberton a special place."
The word philanthropy translates to 'love of mankind' and while this word is traditionally associated with funders, we saw that educators, grant partners, city officials, business owners, and many friends and family of our game changers, celebrate as philanthropists.
"Each year the Foundation honors very special people and organizations who are our game changers," said Suzanne. "The individual and organization that are being recognized tonight share many of the same characteristics: leadership and vision, big picture thinking, working collaboratively and a willingness to make a difference with their time, talent and energy."
Mike Moore was recognized because of his years of commitment to the community through the Coalition of Concerned Christians and the Kiwanis Club of Barberton. The Coalition organizes a weekly soup kitchen at First Presbyterian Church, provides food and clothing to Common Threads Closet, and which provides free laundry services once a month. Mike thanked his wife, Linda, his church, St. Augustine and the coalition for his success. "I'd like to thank the churches that are members of the Coalition of Concerned Christians and all the volunteers who help make these projects possible," he said. "I am honored and humbled by this incredible award. Thank you very much."
The Barberton Firefighters Association Local 329 was recognized because of their integral role in the success of the Esther Ryan Shoe Fund Spaghetti Dinner, which is organized by the Magic City Kiwanis each year. During his acceptance speech, Mike said that he was accepting the award on behalf of the entire local and included those who came before. "On behalf of all those who started all the community events and fundraising, and those who participated in the Esther Ryan Shoe Fund. Those traditions that we began so long ago in the community, are the traditions that we still follow today."
He continued, "Thank you if you have ever supported one of our events. If you've ever bought a raffle ticket from one of us or bought a t-shirt. Thank you for supporting us, so that we can support others who are in need in this community."
The Foundation would like to thank everyone who attended or sponsored our 2022 Annual Dinner. Photos from the event and Game Changer videos can be viewed here.