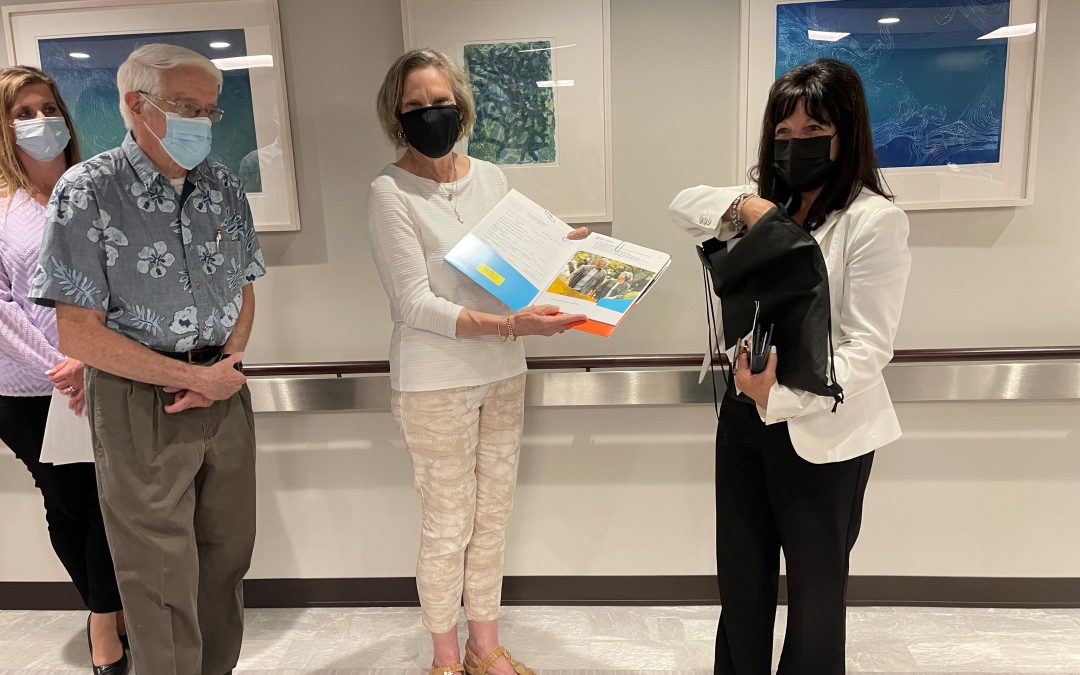 The Barberton Community Foundation Board of Directors held their July board meeting at Summa Health – Barberton Campus. Several board and friends members toured the hospital's newest Joint Replacement Center prior to the meeting. The board discussed regular business and voted to approve Hugh McMichael and Theresa Osbourne to the Friends of the Foundation. Executive director Suzanne Allan, Ph.D. said, "We're pleased to welcome people who care about our community as new Friends to the Foundation."
The Foundation's second grant cycle focuses on health and wellness. The board approved fourteen grants totaling $143,535.
The largest grant of the cycle was $25,000 awarded to Summa Health – Barberton Campus to support the purchase of a new CT machine, supporting cardiac care, stroke therapy and more.
The Foundation awarded $15,000 to AxessPointe in Barberton for their Patient Assistance Fund, which will cover costs such as prescription copays, provide groceries, hygiene items and cleaning items. Funding will help AxessPointe ensure underserved and low-income individuals receive crucial primary and preventative care.
Victim Assistance Program was awarded $15,000 for their Barberton Victim Advocacy Program, which serves victims of crime and trauma. The program is located within the Barberton Municipal Court.
The City of Barberton received grants for two separate parks projects. Tuscora Park received $15,000 to support six new pickleball courts and Breitenstine Park received $10,000 towards renovating the tennis courts.
Countryside (Cuyahoga Valley Countryside Conservancy) received $10,000 to continue their community food access program at the Barberton Farmers Market. This program has been very successful in supporting SNAP and WIC clients with options for more fruits, vegetables and healthy foods in their diets.
Girls on the Run received $10,000 to provide scholarships for girls interested in participating during the fall 2022 and spring 2023 seasons. Funding will also support the purchase of athletic shoes and coaching stipends.
The Humane Society of Summit County received $10,000 to provide services for pet owners in the Barberton community through their MABEL clinic.
The Foundation awarded $7,500 to the Akron Canton Regional Food Bank to support costs associated with the monthly Barberton Direct Distribution, which provides access to healthy food at no cost for Barberton residents. This funding equates to a provision of 14,400 lbs. of food.
IBH Addiction Recovery received $7,500 for group and individual counseling for Barberton clients with substance abuse disorder. Clients receive counseling at every level of care which includes residential, day, intensive outpatient, and outpatient treatment.
Embracing Futures, Inc. received $6,000 to support their Orthodontic Care program, which supports low-income families by providing braces for children with severe orthodontic problems.
The Foundation awarded Greenleaf Family Center $5,000 to support school-based suicide prevention services to approximately 2,000 Barberton middle and high school students.
Ben Curtis Family Foundation received $5,000 to support their Birdie Bags program. This program continues to serve 1,400 to 1,500 Barberton children once each month with take-home bags containing six nonperishable meals, four snacks and personal hygiene essentials.
The Foundation supported the Rape Crisis Center with $2,535 for their program, Responding to Victims in Barberton community. Funding supports victims of domestic/family/intimate partner abuse and/or sexual violence.
The Foundation's last grant cycle of the year focuses on arts and community programming and is due October 1.
Top Photo Tag: (L-R) Friends of the Foundation Bob McDonald, Paula Kallio attend a tour with Michelle Rappach RN, Joint Replacement Manager at Summa Health – Barberton Campus. Michelle says, "When you aren't in joint pain, you move better, you feel better and you live better."